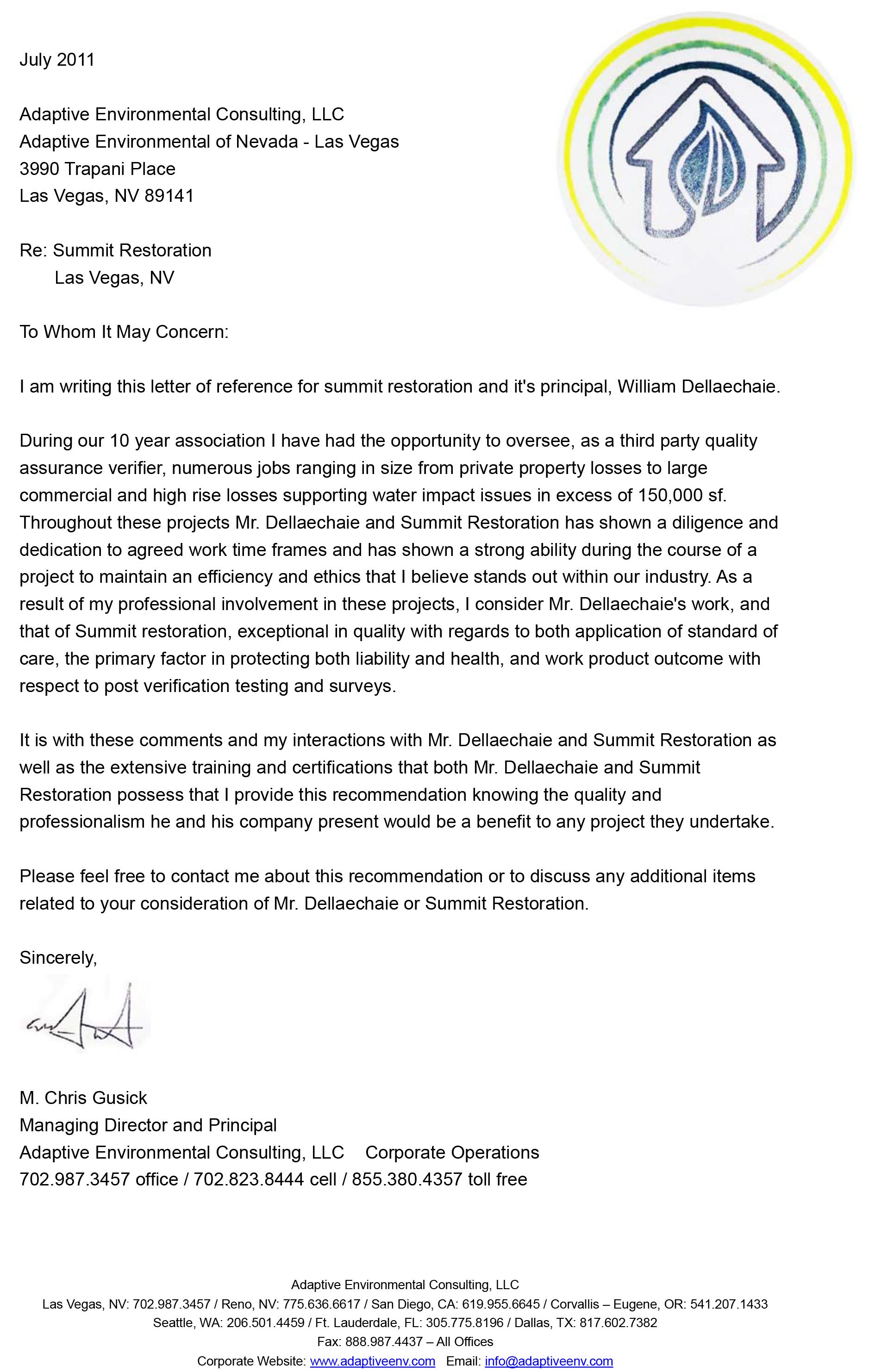 Show Text
July 2011
Adaptive Environmental Consulting, LLC
Adaptive Environmental of Nevada – Las Vegas
3990 Trapani Place
Las Vegas, NV 89141
Re: Summit Restoration
Las Vegas, NV
To Whom It May Concern:
I am writing this letter of reference for summit restoration and it's principal, William Dellaechaie.
During our 10 year association I have had the opportunity to oversee, as a third party quality assurance verifier, numerous jobs ranging in size from private property losses to large commercial and high rise losses supporting water impact issues in excess of 150,000 sf. Throughout these projects Mr. Dellaechaie and Summit Restoration has shown a diligence and dedication to agreed work time frames and has shown a strong ability during the course of a project to maintain an efficiency and ethics that I believe stands out within our industry. As a result of my professional involvement in these projects, I consider Mr. Dellaechaie's work, and that of Summit restoration, exceptional in quality with regards to both application of standard of care, the primary factor in protecting both liability and health, and work product outcome with respect to post verification testing and surveys.
It is with these comments and my interactions with Mr. Dellaechaie and Summit Restoration as well as the extensive training and certifications that both Mr. Dellaechaie and Summit Restoration possess that I provide this recommendation knowing the quality and professionalism he and his company present would be a benefit to any project they undertake.
Please feel free to contact me about this recommendation or to discuss any additional items related to your consideration of Mr. Dellaechaie or Summit Restoration.
Sincerely,
M. Chris Gusick
Managing Director and Principal
Adaptive Environmental Consulting, LLC Corporate Operations
702.987.3457 office / 702.823.8444 cell / 855.380.4357 toll free