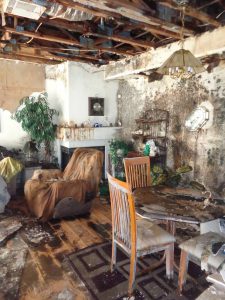 Summit Restoration conducts a visual inspection of the structures environmental condition. The typical process begins with an inspection and assessment of water or mold damage and extent of contamination visibly present. Further examination is sometimes necessary in certain cases to determine if any hidden contamination is present behind wallpaper, within the wall and ceiling cavities or under/behind cabinets, etc. All inspections and consultations include an evaluation of existing water & mold damage and a preliminary estimate on what costs may be involved in order to restore the property back to an environmentally safe condition.
You may suspect hidden mold growth if a structure has a musty odor, but you cannot see the source, or if you know there has been a previous water loss. Mold may be hidden in places such as behind baseboard, the back side of drywall, wallpaper, or paneling, the top side of ceiling tiles, the underside of carpets and pads, etc. Other possible locations of hidden mold include areas inside walls around pipes (with leaking or condensing pipes), the surface of walls behind cabinets, inside ductwork, etc.
Investigating hidden mold problems may be difficult and will require caution when the investigation involves disturbing potential sites of mold growth. For example, removal of wallpaper can lead to a massive release of spores if there is mold growing on the underside of the paper. If you believe that you may have a hidden mold problem, consider hiring an experienced professional.
Summit Restoration has the most current training and uses the highest quality equipment and latest technology. We provide a comprehensive evaluation of the property which includes:
Identification of Affected Areas
Moisture Detection
Digital Photos and Diagrams
Description of Services that would be Provided
Mold Remediation Estimate
Condition
For purpose of this standard (Ref IICRC S520 2nd Edition ANSI), Conditions 1, 2, and 3 are defined for indoor environments.
Definitions for each Condition are:
Condition 1 (normal fungal ecology) – an indoor environment that may have settled spores, fungal fragments or traces of actual growth whose identity, location and quantity is reflective of a normal fungal ecology for a similar indoor environment.
Condition 2 (settled spores) – an indoor environment which is primarily contaminated with settled spores that were dispersed directly or indirectly from, and reflective of, the fungal ecology of a Condition 3 area, and which may have traces of actual growth.
Condition 3 (actual growth) – an indoor environment contaminated with the presence of actual mold growth and associated spores. Actual growth includes growth that is active or dormant, visible or hidden.
Mold Remediation Process
Set Containment
Establish Negative Pressure
Confirm all Engineering Controls are in Place
Removal of Impacted Material to Expose Lumber
Resurfacing of Lumber
Air Washing and Hepa-Vacuuming of all Horizontal and Vertical Surfaces
Air Scrubbing for a Minimum of 48 Hours Prior to Clearance Testing
Clearance Testing by 3rd Party Hygienist
Summit Restoration provides expert mold remediation services at some of the most competitive prices in the industry. Our 75 years of combined experience allow us to provide professional mold remediation services at reasonable costs.
Summit Restoration does not perform its own clearance testing. We recommend the use of a 3rd party Hygienist perform all clearance testing and any pre-testing necessary.