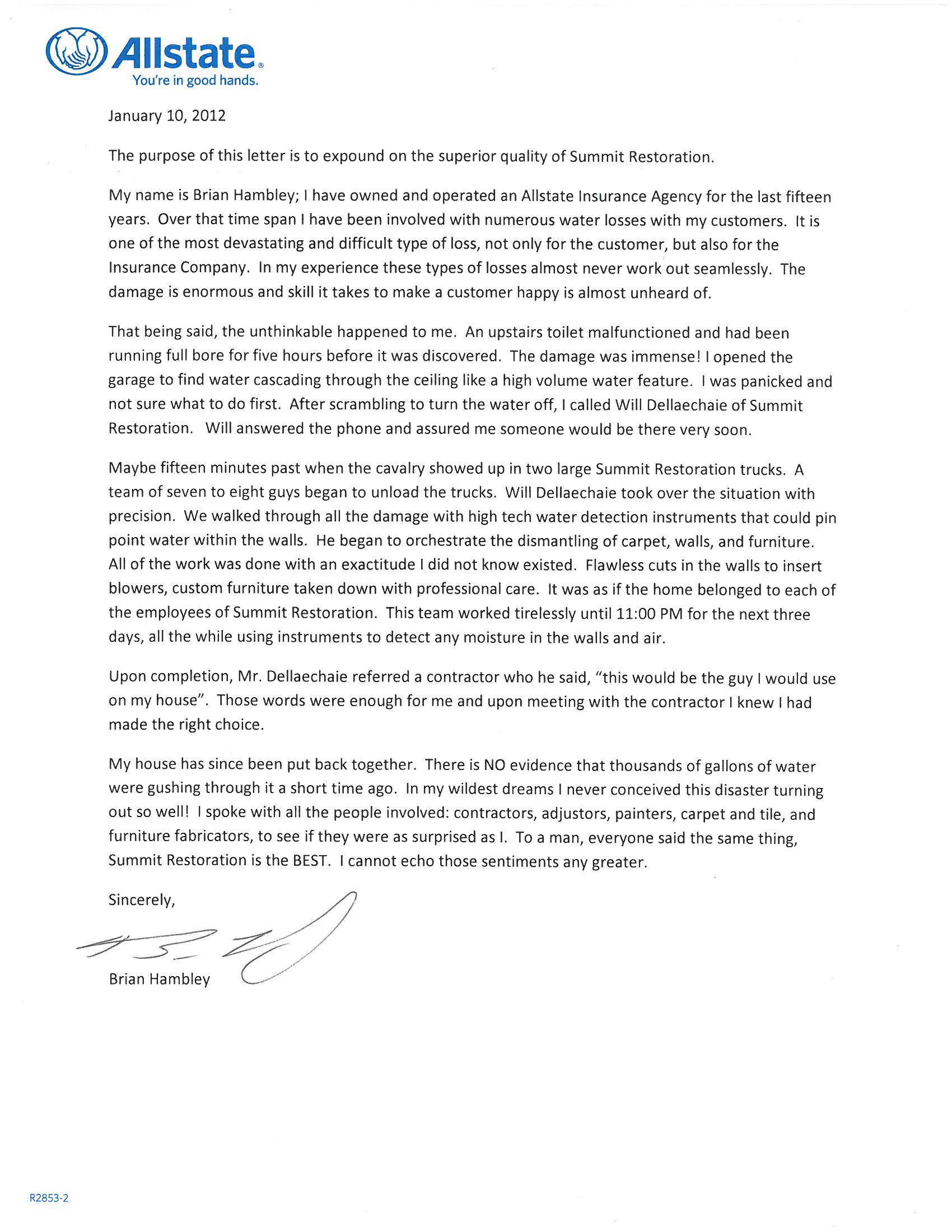 Show Text
January 10, 2012
The purpose of this letter is to expound on the superior quality of Summit Restoration.
My name is Brian Hambley; I have owned and operated an Allstate Insurance Agency for the last fifteen years. Over that time span I have been involved with numerous water losses with my customers. It is one of the most devastating and difficult type of loss, not only for the customer, but also for the Insurance Company. In my experience these types of losses almost never work out seamlessly. The damage is enormous and skill it takes to make a customer happy is almost unheard of.
That being said, the unthinkable happened to me. An upstairs toilet malfunctioned and had been running full bore for five hours before it was discovered. The damage was immense! I opened the garage to find water cascading through the ceiling like a high volume water feature. I was panicked and not sure what to do first. After scrambling to turn the water off, I called Will Dellaechaie of Summit Restoration. Will answered the phone and assured me someone would be there very soon.
Maybe fifteen minutes past when the cavalry showed up in two large Summit Restoration trucks. A team of seven to eight guys began to unload the trucks. Will Dellaechaie took over the situation with precision. We walked through all the damage with high tech water detection instruments that could pin point water within the walls. He began to orchestrate the dismantling of carpet, walls, and furniture. All of the work was done with an exactitude I did not know existed. Flawless cuts in the walls to insert blowers, custom furniture taken down with professional care. It was as if the home belonged to each of the employees of Summit Restoration. This team worked tirelessly until 11:00 PM for the next three days, all the while using instruments to detect any moisture in the walls and air.
Upon completion, Mr. Dellaechaie referred a contractor who he said, "this would be the guy I would use on my house". Those words were enough for me and upon meeting with the contractor I knew I had made the right choice.
My house has since been put back together. There is NO evidence that thousands of gallons of water were gushing through it a short time ago. In my wildest dreams I never conceived this disaster turning out so well! I spoke with all the people involved: contractors, adjustors, painters, carpet and tile, and furniture fabricators, to see if they were as surprised as I. To a man, everyone said the same thing, Summit Restoration is the BEST. I cannot echo those sentiments any greater.
Sincerely,
Brian Hambley