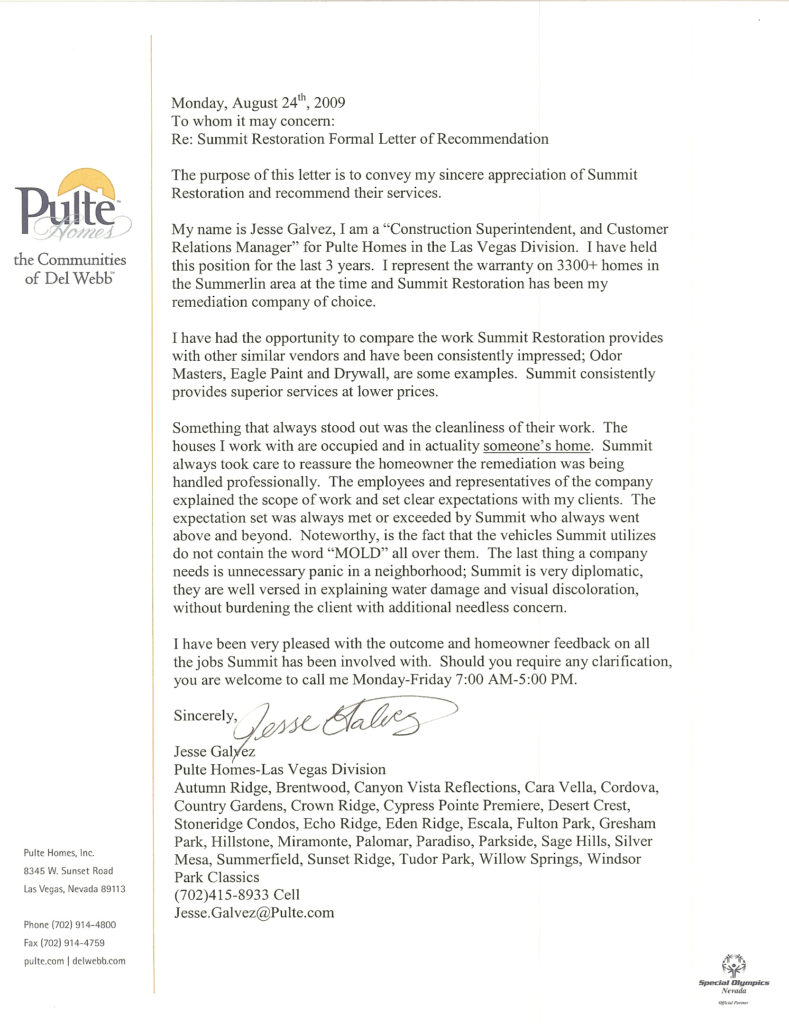 Show Text
Monday, August 24th, 2009
To whom it may concern:
Re: Summit Restoration Formal Letter of Recommendation
The purpose of this letter is to convey my sincere appreciation of Summit Restoration and recommend their services.
My name is Jesse Galvez, I am a "Construction Superintendent, and Customer Relations Manager" for Pulte Homes in the Las Vegas Division. I have held this position for the last 3 years. I represent the warranty on 3300+ homes in the Summerlin area at the time and Summit Restoration has been my remediation company of choice.
I have had the opportunity to compare the work Summit Restoration provides with other similar vendors and have been consistently impressed; Odor Masters, Eagle Paint and Drywall, are some examples. Summit consistently provides superior services at lower prices.
Something that always stood out was the cleanliness of their work. The houses I work with are occupied and in actuality someone's home. Summit always took care to reassure the homeowner the remediation was being handled professionally. The employees and representatives of the company explained the scope of work and set clear expectations with my clients. The expectation set was always met or exceeded by Summit who always went above and beyond. Noteworthy, is the fact that the vehicles Summit utilizes do not contain the word "MOLD" all over them. The last thing a company needs is unnecessary panic in a neighborhood; Summit is very diplomatic, they are well versed in explaining water damage and visual discoloration, without burdening the client with additional needless concern.
I have been very pleased with the outcome and homeowner feedback on all the jobs Summit has been involved with. Should you require any clarification, you are welcome to call me Monday-Friday 7:00 AM-5:00 PM.
Sincerely,
Jesse Galvez
Pulte Homes – Las Vegas Division
Autumn Ridge, Brentwood, Canyon Vista Reflections, Cara Vella, Cordova,
Country Gardens, Crown Ridge, Cypress Pointe Premiere, Desert Crest,
Stoneridge Condos, Echo Ridge, Eden Ridge, Escala, Fulton Park, Gresham
Park, Hillstone, Miramonte, Palomar, Paradiso, Parkside, Sage Hills, Silver
Mesa, Summerfield, Sunset Ridge, Tudor Park, Willow Springs, Windsor
Park Classics
(702) 415-8933 Cell
Jesse.Galvez@Pulte.com