SEWAGE BACKFLOWS POSE A SERIOUS HEALTH RISK TO ALL OCCUPANTS
Summit Restoration has the proper training, personal protective equipment, vaccinations, follows strict protocols and establishes engineering controls to ensure the safety of our employees and all occupants.
BACKFLOWS
With over 120 viruses as well as parasitic agents and bacterial pathogens, sewage is not something you want to take lightly. Sewage is EXTREMELY dangerous to everyone, especially those with pre-existing medical conditions, young children and the elderly.  Quick response to sewage backups is imperative to protect the occupants of the property.
For your safety:
Do not attempt any cleaning whatsoever
Do not enter the affected area
Turn your HVAC system OFF
Do not place any fans, air movers, blowers, etc.
If possible, leave the premises
Call a qualified professional immediately
PRIMARY GOAL
The primary goal of sewage remediation is the safe and complete removal and disposal of sewage contaminated materials and decontamination of the impacted areas. We strive to protect the occupants and unaffected areas from potential risk by applying our decontamination and containment process followed by a clearance test by a 3rd party Hygienist.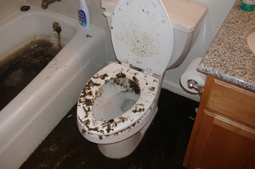 SEWAGE
Bacterial pathogens in sewage can include virulent strains of gram-negative organisms such as Salmonella, Shigella, and Escherichia coli (Berry et, al, 1994). Over 120 different viruses can be excreted in human feces and urine and can be found in municipal sewage (Straub et al, 1993), in addition to a wide variety of fungi and animal and human parasites. Sewage also constitutes a tremendous source of bacterial endotoxins (cell wall components) that can induce a variety of adverse health effects. The potential adverse health consequences to indoor occupants and restoration workers from sewage contamination and clean-up activities are discussed in the Chapter 3, Health Effects from Exposure to Microbial Contamination in Water Damaged Buildings.
SEWAGE AND HEALTH  
Risk to the public's health from sewage exposure is demonstrated in a 1988-89 epidemic of hepatitis A in Ocoee, Flordia, that resulted in 39 cases and one fatal death (Vonstille et al,1993). Unprotected workers who remediate sewage damage losses, as well as sewage treatment workers, and sewage sludge processors, are at risk for chronic respiratory disease, other systemic health effects, and a host of acute and chronic bacterial, fungal, viral and parasitic diseases. Over 120 different viruses can be excreted in human feces and urine and find their way into sewage (Straub et al, 1993). These can include rotavirus, causing severe and sometime life-threatening diarrhea in children, adenoviruses, causing respiratory and eye infections, and Norovirus, a significant cause of gastroenteritis. Parasitic agents include the highly infectious Giardia and Cryptosporidium that can result in chronic and severe intestinal diseases in both adults and children.
Bacterial pathogens in sewage can include virulent strains of gram-negative organisms such as Salmonella, Shigella, and Escherichia coli (Berry et, al, 1994). In addition to the infectious disease risk, gram-negative bacteria contain endotoxins that are released at the time of cell death and destruction. These cell fragments with endotoxins can be aerosolized during improper remediation activities, such as attempts to clean and dry sewage-saturated carpet in-place, as opposed to careful removal and disposal. Endotoxins can induce respiratory inflammation and airway restriction (chest tightness), and create the potential for allergic and infectious disease responses. There is also evidence that inhaled endotoxins may adversely influence the central nervous system (Rylander, 1994).
Attempts at salvaging sewage-contaminated carpet and other porous materials can also liberate extensive amounts of allergens, as well as potentially infectious agents. This poses a risk for susceptible populations such as the elderly, infants, convalescents, and those that are immunocompromised through disease or therapy.
Sewage Damage and Clean Up True or False?
Sewage saturated and contaminated carpets or rugs can be "saved"
False, porous materials such as carpet, pad, upholstery, bedding, wicker, paper goods or fabrics that cannot be washed and sanitized must be disposed of properly.
Partially sewage – flooded buildings are safe
False, not unless contaminated areas are sealed off preventing cross contamination of other areas.
Trained professionals using specialized equipment are recommended to set up appropriate containment areas sealing off unaffected areas.