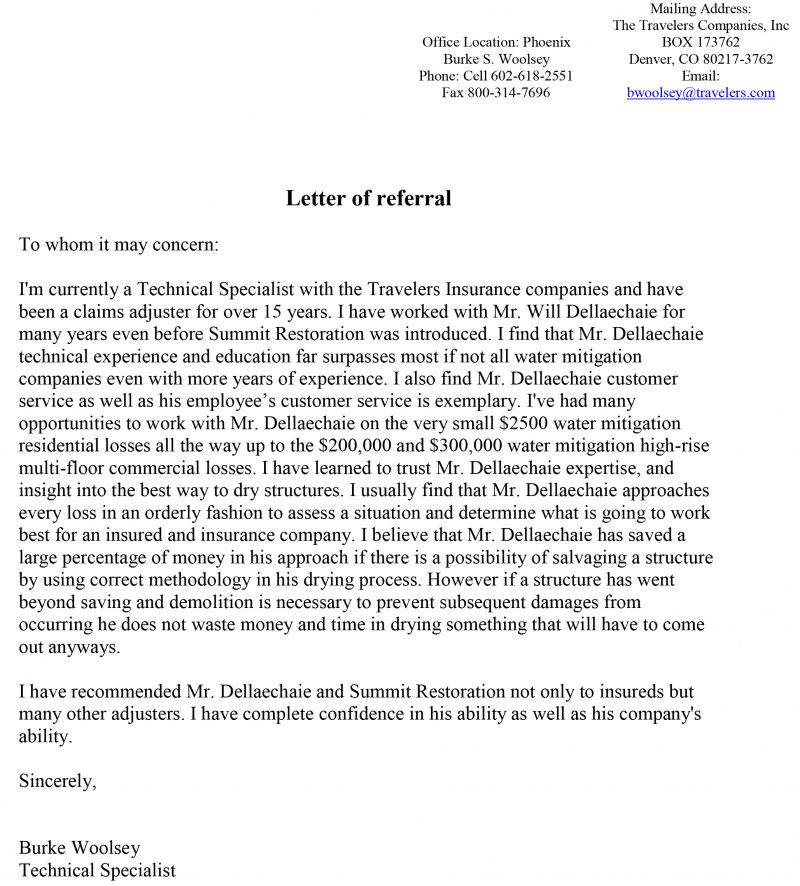 Show Text
Letter of referral
To whom it may concern:
I'm currently a Technical Specialist with the Travelers Insurance companies and have been a claims adjuster for over 15 years. I have worked with Mr. Will Dellaechaie for many years even before Summit Restoration was introduced. I find that Mr. Dellaechaie technical experience and education far surpasses most if not all water mitigation companies even with more years of experience. I also find Mr. Dellaechaie customer service as well as his employee's customer service is exemplary. I've had many opportunities to work with Mr. Dellaechaie on the very small $2500 water mitigation residential losses all the way up to the $200,000 and $300,000 water mitigation high-rise multi-floor commercial losses. I have learned to trust Mr. Dellaechaie expertise, and insight into the best way to dry structures. I usually find that Mr. Dellaechaie approaches every loss in an orderly fashion to assess a situation and determine what is going to work best for an insured and insurance company. I believe that Mr. Dellaechaie has saved a large percentage of money in his approach if there is a possibility of salvaging a structure by using correct methodology in his drying process. However if a structure has went beyond saving and demolition is necessary to prevent subsequent damages from occurring he does not waste money and time in drying something that will have to come out anyways.
I have recommended Mr. Dellaechaie and Summit Restoration not only to insureds but many other adjusters. I have complete confidence in his ability as well as his company's ability.
Sincerely,
Burke Woolsey
Technical Specialist