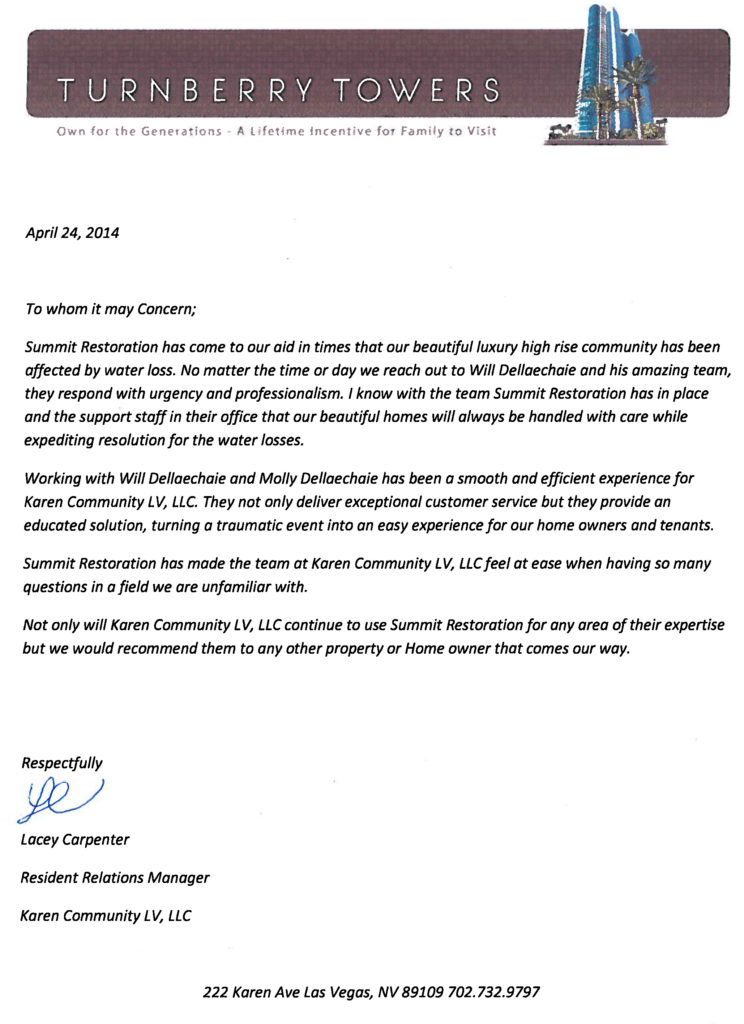 Show Text
April 24, 2014
To whom it may Concern;
Summit Restoration has come to our aid in times that our beautiful luxury high rise community has been affected by water loss. No matter the time or day we reach out to Will Dellaechaie and his amazing team, they respond with urgency and professionalism. I know with the team Summit Restoration has in place and the support staff in their office that our beautiful homes will always be handled with care while expediting resolution for the water losses.
Working with Will Dellaechaie and Molly Dellaechaie has been a smooth and efficient experience for Karen Community LV, LLC. They not only deliver exceptional customer service but they provide an educated solution, turning a traumatic event into an easy experience for our home owners and tenants.
Summit Restoration has made the team at Karen Community LV, LLC feel at ease when having so many questions in a field we are unfamiliar with.
Not only will Karen Community LV, LLC continue to use Summit Restoration for any area of their expertise but we would recommend them to any other property or Home owner that comes our way.
Respectfully
Lacey Carpenter
Resident Relations Manager
Karen Community LV, LLC
222 Karen Ave Las Vegas, NV 89109
702.732.9797